The Diaper Bank and BabyTime Presents:
Diaper Derby Crawl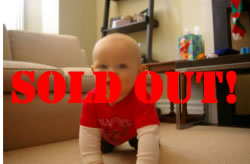 How fast does your baby crawl?
Babies are required to crawl 16 feet and the race is open to babies who crawl but can't walk. There will be one winner from each race but everyone will receive a participation prize.
See complete list of rules below. All derbies will be held on Friday, November 9th starting at 11:00 AM at the Fun & Fitness Stage! There will NOT be any races on Saturday or Sunday.
Diaper Derby Crawl Rules
Race is open to babies who crawl but do not walk. Walkers will be disqualified.
Adults must stay off the mats (unless in case of an emergency or to remove your child from the race).
A three minute time limit is in effect after which the baby closest to the finish will be declared the winner.
There will only be one winner for each race
Only 15 Entries allowed per time slot!
Closed for Fall 2013!