Ann Douglas
Ann Douglas is the author of 23 books, including (most recently) the second Canadian and American editions of The Mother of All Pregnancy Books (Wiley Canada, 2011, Wiley US, 2012); and The Mother of All Baby Books (Wiley Canada, 2012). The books in The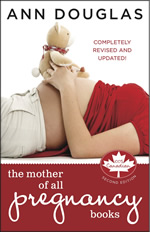 Mother of All book series have sold over half a million copies in North America to date.
A passionate and inspiring speaker, Ann delivers keynote addresses and leads small-group workshops at health and parenting conferences across the country. She has created and delivered parenting courses for high-profile websites such as WebMD and AOL as well as on behalf of government clients and Fortune-500 companies.
You can find out more about Ann by visiting www.having-a-baby.com
---
Dr. Michael (Mickey) Lester B.A., M.D., FRCPC
Dr. Mickey Lester was born on August 11, 1938 in Toronto, Ontario, Canada. He graduated from the University of Toronto in 1964.
He began his consultant and general paediatric practice more than 40 years ago and currently runs a private and consulting practice in Mississauga, Ontario, providing paediatric care for children from birth to 18 years of age.
During his 40 plus years as a paediatrician, Dr. Lester has had more than 300,000 visits to his office.
In June, 2012, Dr. Lester released his first book entitled, "Say AAAH": A Common Sense A to Z Guide to those 'AAAHsome' Years Newborn to Age 5'. Dr. Lester is married with 4 children and 7 grandchildren.
ABOUT THE BOOK:
Regular price $36.95 plus HST
Show price $30.00 taxes included
Book can be purchased by cash or cheque only. (no credit cards)
Say "AAAH": A Common Sense A to Z Guide to Those AAAHsome years Newborn to Age 5, was written by Dr. Michael (Mickey) Lester, B.A., M.D, FRCPC and released in June, 2012.Background: Say "AAAH" was 25 years in the making --- the culmination of the experience, observations and tips Dr. Mickey Lester gleaned from his paediatric practice. During this time, Dr. Lester treated thousands of children while striving to allay the fears and anxieties of their parents by providing them hand-outs with important tips and pertinent information on baby and child care.
Available for purchase online at www.drmickeylester.com
---
Core Expectations
Samantha Montpetit-Huynh, CPTN-CPT, PFS, NWS, RAB, is the founder of Core Expectations, Toronto's only full service wellness team that provides in home personal training, abdominal rehabilitation and other support services to the homes and offices of pregnant women and new moms across the GTA.

Samantha and her team are the creators of the AB REHAB program for Diastasis Recti – the true cause of the dreaded "Mummy Tummy" and pelvic floor dysfunction post pregnancy.

Samantha is known extensively in her field and is the resident fitness expert on the Marilyn Denis Show. She also helped to create the Today's Parent Healthy Pregnancy Guide.
Kerri Cooper, B.Sc., C.N.P, is a Holistic Nutritionist and nutrition educator. She offers research-based nutritional analysis and counseling to a diverse group of clientele. Focusing on meeting each client's personal health goals and working within their unique lifestyle, Kerri devises a customized lifestyle and diet modification program using no-nonsense nutrition and focusing on real, whole foods and natural supplementation. She has a special interest working with women throughout their reproductive years, advising them on issues related to fertility, pre-conception detoxification, pre and post-natal nutrition and breastfeeding. In addition, Kerri counsels parents of children with food allergies and educates new parents on proper solid food introduction to ensure digestive system integrity, thereby reducing food allergies and ensuring a strong immune system.
Frances Lea, H.N.C. is a wife of more than 20 years, mother of two beautiful girls and a Holistic Nutritionist Consultant. Since becoming interested in nutrition, she has not only changed the way of life of her own family but the lives of those around her. As a mom, Frances can empathize, bringing understanding and knowledge to fitting healthy eating into a busy life. She has a special interest in working with families on a whole and getting their health in order.

Frances brings to our team many years of life experience and expertise that she shares with passion and as a result, her clients reap the rewards.
---
La Leche League Canada
Pregnant? Learn how to help get breastfeeding off to a good start. Already breastfeeding? Hear tips on avoiding difficulties and overcoming challenges. Find out how La Leche League Canada fits into your breastfeeding support network.La Leche League is a charitable, volunteer-run organization that provides mother-to-mother support and breastfeeding information.
---
Advantages of Stem Cell Storage
Presented by Kayvan Vakili
Cord blood banking has revolutionized the medical field and has been at the forefront of treating previously untreatable diseases such as Leukemia, Lymphoma, Neuroblastoma and a long list of other fatal and debilitating illnesses. Cord blood stem cell transplantation has already helped save the lives of tens of thousands worldwide and is now the premier method physicians choose as treatment for many cancers, especially those affecting children. This educational seminar has been designed with the help of Dr. Yang and will be presented by Kayvan Vakili, Marketing Manager for Progenics. The aim of this seminar is not advertisement, but rather an educational insight into the world of stem cells: What they are? How they are useful? What advantages do they offer over bone marrow? How to choose a bank to store your stem cells? These are some of the most common, yet important questions people may have regarding this procedure and our goal is to help everyone understand all the great benefits of stem cell banking. Join us and learn about this once in a lifetime opportunity to store your baby's cord blood and possibly save his or her life!
---
Feeding Milestones
Cindy Zizek is a mom, wife, Registered Nurse, and avid baby wearer, who is loving life raising her two active kids. At almost 4 years old, Gabby is expressive and provides her own constant commentary. Bringing up the rear is 8 month old Niko, who is quite the mover and shaker these days, and a constant source of entertainment. With over a decade of nursing experience, Cindy provides teaching to new parents about
breastfeeding, infant nutrition, early parenting and child development.
---
From Nature to Nurture: Using Treehouse vitamins to boost your child's immune system this cold and flu season
Dr. Joyce Johnson ND, is a well respected licensed Naturopathic doctor who practices in Belle River, Ontario. She completed her bachelors of science in biochemistry at Memorial University of Newfoundland and completed her medical training at the Canadian College of Naturopathic Medicine, in Toronto. Dr. Johnson not only educates the public about Naturopathic medicine but she trains hundreds of healthcare practitioners across Canada and the United States about various health issues and natural health product issues including guidelines about diet, supplementation, and integration of pharmacological and natural therapies. Dr. Johnson has lectured as an associate professor at the Canadian College of Naturopathic Medicine, women's health groups, athletes, pharmacists and other health professionals across Canada and the United States. She is a regular radio and television guest, and has written for many
well respected magazines in pursuit of educating the public about the safe and effective uses of complementary medicine. She has a naturopathic practice with a focus on allergies, women's health, weight loss, pregnancy, and pediatrics.
---
Safe Sleep For Your Infant - Yolanda Guitar
Yolanda delivers workshops and presentations addressing SIDS and Safe Sleep for infants. She targets a wide variety of audiences such as; new and expectant mothers, childcare providers, educators such as public health and hospital staff. She has provided training to all Catholic Children's Aid Society staff and foster parents throughout the Toronto district. She has made many television appearances including appearing with the Chief Coroner of Ontario to educate viewers and listeners all about safe sleep.
Yolanda is involved with the Registered Nurses Association of Ontario, focus group to create Best Practice Guidelines for safe sleep. She also speaks at various Ontario Early Years' programs and other community events, while volunteering her time to attend trade shows and informational seminars.
Yolanda is currently on a panel with the Ontario Association of Children's Aid Societies to create a training webinar to be used for front line staff on safe sleep practices. She is also working on a nationwide project to replace loose blankets in hospitals with wearable blankets, and to encourage a new way of modelling safe sleep in all hospitals.
Yolanda presented at the Annual Education Program for Coroners and Pathologists at a session dedicated to investigation of Paediatric deaths, giving a parents perspective.
Yolanda has been a volunteer with the Canadian Foundation for the Study of Infant Deaths for 9 years, her contribution in education on the lifesaving message of safe sleep for infants has been extraordinary and invaluable to the lives that she has touched.
Yolanda has gained the admiration and respect of healthcare professionals across the province and is recognized as an expert in the field of infant safe sleep.
---
Lianne Phillipson-Webb Dip. ION RNCP
Lianne Phillipson-Webb is a Registered Nutritionist, author and founder Sprout Right - Nutrition from Tummy to Toddler. She shares her expert nutrition advice for families on Canada AM, CHCH Morning Live, Global Morning Live, TheLoop.ca, iVillage.ca, CityLine and contributes to Today's Parent and Canadian Family magazine. As a mom of two daughters, she understands striving to make the best food choices while juggling work, kids and home life. Sprout Right offers a host of supportive services, including consultations, cooking classes, meal plans and products that help families learn how and why it's important to eat super nutritious food.
---
Julia Di Paolo
Julia Di Paolo is a Registered Physiotherapist with a special interest in women's health and has developed a treatment and exercise program for diastasis recti abdominis. She is a certified Pelvic Floor Physiotherapist, having completed a specialized post graduate education program that focuses on assessment and treatment of the pelvic fl¬oor and associated dysfunctions. She has worked extensively with Kim Vopni of Pelvic Floor Wellness and has years of experience designing exercise and Pfi lates programs for women of all ages who are experiencing pelvic -floor dysfunctions such as incontinence and prolapse.
For over 10 years, Julia worked at Spine and Sport Physiotherapy Centre, formerly Anita Lorelli Physiotherapy Centre, in downtown Toronto. She was mentored by Anita Lorelli, a well known physiotherapist who has her diploma in the McKenzie Mechanical Diagnosis and Therapy.
Julia is fluent in both French and English, and can assess and treat patients in their language of choice. Committed to continuing education, she is a credentialed McKenzie therapist and successfully marries a variety of techniques ranging from manual therapy to Sahrmann exercises.
Julia was a competitive volleyball player before giving birth to two beautiful boys. She now stays fit through regular sessions with her personal trainer and biking to work with her boys in tow.
---