Playing with LEGO® DUPLO® means having fun, being creative and learning – all at the same time!

Playing with LEGO® DUPLO® bricks helps your child develop social skills, creativity, and fine motor skills. At the same time, children will learn to explore and make sense of the surrounding world. Join us for an interactive build experience and let your child's imagination run wild in our play area filled with bricks! Plus get play ideas and an activity booklet from one of our expert Moms!

Join us as we look to inspire small hands with BIG imaginations! To learn about LEGO® DUPLO® please visit www.DUPLO.LEGO.com
---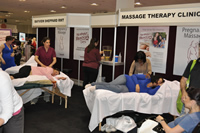 Pregnancy Massage Therapy Clinic

Bayview Sheppard RMT is back with their Complimentary Pregnancy Massage Therapy Clinic at the BabyTime Show!
We could all use a little extra relaxation and care to balance our busy lifestyles. This is especially true for expecting moms! Visit the Bayview Sheppard RMT feature booth to learn about the benefits of pre and post natal massage therapy or to simply relax in our hands.
This complimentary offer is exclusively for our expecting mothers.
Bayview Sheppard is offering an amazing SHOW SPECIAL for anyone who books an in clinic appointment while visiting the BabyTime Show...make this feature a must stop at the show!
---
The "Baby" Portrait Studio
We know that as a parent, you want to capture every smile, giggle, and step your child has and that is why we have once again had the experts at Snugabug Portaits set up two on-site studios with you in mind.
The theme is Spring Has Hatched! Snugabug has gotten their hands on some baby chicks and ducks for your little ones to pose with! These photo shoots are always so fun for the kids and the parents love seeing the little chicks and ducks too!
Snugabug will also have a studio set up with a great selection of props and accessories so that you can also capture some of their traditional in studio shots.
The "Baby" Portrait Studio on site at The BabyTime Show is a must for anyone with little ones in tow. Don't miss the excellent SHOW SPECIALS! CD's burned that day within hours of taking your photos. Prices range for $20-$50 for resolution images. CASH ONLY.
---
Kids Café
Our Kids Café has many healthy options for toddlers and parents. The lounge also has bottle warming stations, highchairs and boosters for your family's comfort.
---
Your baby deserves the best. Learn why you should choose Playtex® baby bottles, sippy cups and diaper disposal systems at the Playtex® Mommyville booth. Come see us at booth #370. Playtex®. We know babies.
---

Medela Nursing Areas
Sit in comfort and privacy to nurse your baby in the Medela Nursing Areas at the show. Please refer to the show guide for locations. Comfortable seating, nursing pillows and bottle warmers are provided with nursing bra pads and breastfeeding information courtesy of Medela Canada.

Medela has championed the cause for breastfeeding for many years. This ongoing commitment will continue to focus on producing the finest quality products, providing supportive programs for nursing mothers and helping to educate people throughout the world on the benefits of breastfeeding babies.

Medela ...More mothers choose it, More hospitals recommend it, More research goes into it. Our commitment is to give breastfeeding mothers ideal support in the most natural way.
---
Ask the Doula Booth – Presented by Helping Hands Doula
Do you have questions about your pregnancy, birth or new baby? We can help!

Be sure to stop by the 'Ask the Doula Booth' where our experienced doula's can help with ALL those questions and give you information on how to reduce anxiety and have a positive birth experience. We can also help with adjusting to your new role as parents.

Having a baby was meant to be done in a community, not alone. We can help you find that community of support.

Be sure to come and hear our talk on 'How to reduce fear and become a confident parent' happening in the Seminar Room. Click here for times.
---