Ann Douglas
Ann Douglas is the author of 23 books, including (most recently) the second Canadian and American editions of The Mother of All Pregnancy Books (Wiley Canada, 2011, Wiley US, 2012); and The Mother of All Baby Books (Wiley Canada, 2012). The books in The Mother of All book series have sold over half a million copies in North America to date.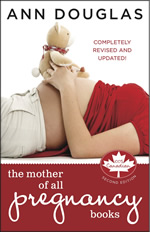 A passionate and inspiring speaker, Ann delivers keynote addresses and leads small-group workshops at health and parenting conferences across the country. She has created and delivered parenting courses for high-profile websites such as WebMD and AOL as well as on behalf of government clients and Fortune-500 companies.

You can find out more about Ann by visiting www.having-a-baby.com
---
Core Expectations
Samantha Montpetit-Huynh, CPTN-CPT, PFS, NWS, RAB, is the founder of Core Expectations, Toronto's only full service wellness team that provides in home personal training, abdominal rehabilitation and other support services to the homes and offices of pregnant women and new moms across the GTA.
Samantha and her team are the creators of the AB REHAB program for Diastasis Recti – the true cause of the dreaded "Mummy Tummy" and pelvic floor dysfunction post pregnancy.
Samantha is known extensively in her field and has appeared on Breakfast Television, CTV News and Rogers Daytime. She is now the resident fitness expert on the Marilyn Denis Show. Samantha also helped to create the Today's Parent Healthy Pregnancy Guide.
Kerri Cooper, B.Sc., C.N.P, is a Holistic Nutritionist and nutrition educator. She offers research-based nutritional analysis and counseling to a diverse group of clientele. Focusing on meeting each client's personal health goals and working within their unique lifestyle, Kerri devises a customized lifestyle and diet modification program using no-nonsense nutrition and focusing on real, whole foods and natural supplementation. She has a special interest working with women throughout their reproductive years, advising them on issues related to fertility, pre-conception detoxification, pre and post-natal nutrition and breastfeeding. In addition, Kerri counsels parents of children with food allergies and educates new parents on proper solid food introduction to ensure digestive system integrity, thereby reducing food allergies and ensuring a strong immune system.
Frances Lea, H.N.C. is a wife of more than 20 years, mother of two beautiful girls and a Holistic Nutritionist Consultant. Since becoming interested in nutrition, she has not only changed the way of life of her own family but the lives of those around her. As a mom, Frances can empathize, bringing understanding and knowledge to fitting healthy eating into a busy life. She has a special interest in working with families on a whole and getting their health in order.

Frances brings to our team many years of life experience and expertise that she shares with passion and as a result, her clients reap the rewards.
Pregnancy Exercise and Nutrition: (Saturday)
It is now considered a risk factor to NOT exercise during pregnancy! But most women aren't sure of what they can do so they do nothing at all. Find out what you MUST do and what you absolutely must avoid during those 9 months. Exercise guidelines, trimester by trimester and myths will be reviewed.
Eating whole foods is paramount for growing a healthy baby. Learn the "have-to's" for a prenatal diet and how to combat nausea, heart burn and boost your energy in those last few months with a good old fashioned proper diet.
Postpartum Exercise and Nutrition: (Sunday)
Got mummy tummy? Do you dribble when you giggle? Do you feel heavy, tired and unhappy with your progress to date? It's nothing new that exercise and food go hand in hand but having a plan is the first step to success!!
Find out what the true cause of that postpartum pooch is and if you will ever be able to run without leaking again. Slow, steady fat loss using food for breastfeeding moms will not only increase your energy and make you feel good, but will provide your baby with the nutrients needed for proper growth.
---
Advantages of Stem Cell Storage
Presented by Kayvan Vakili
Cord blood banking has revolutionized the medical field and has been at the forefront of treating previously untreatable diseases such as Leukemia, Lymphoma, Neuroblastoma and a long list of other fatal and debilitating illnesses. Cord blood stem cell transplantation has already helped save the lives of tens of thousands worldwide and is now the premier method physicians choose as treatment for many cancers, especially those affecting children. This educational seminar has been designed with the help of Dr. Yang and will be presented by Kayvan Vakili, Marketing Manager for Progenics. The aim of this seminar is not advertisement, but rather an educational insight into the world of stem cells: What they are? How they are useful? What advantages do they offer over bone marrow? How to choose a bank to store your stem cells? These are some of the most common, yet important questions people may have regarding this procedure and our goal is to help everyone understand all the great benefits of stem cell banking. Join us and learn about this once in a lifetime opportunity to store your baby's cord blood and possibly save his or her life!
---
La Leche League Canada

Pregnant? Learn how to help get breastfeeding off to a good start. Already breastfeeding? Hear tips on avoiding difficulties and overcoming challenges. Find out how La Leche League Canada fits into your breastfeeding support network.
La Leche League is a charitable, volunteer-run organization that provides mother-to-mother support and breastfeeding information.

---
5 Supplements to Build a Better Brain: Helping Your Child's Cognitive Development with Treehouse Vitamins
Dr. Quinn Hand, BHSc, ND
Dr. Quinn Hand is a licensed Naturopathic Doctor. She completed her medical training at the Canadian College of Naturopathic Medicine (CCNM), in Toronto, where she received the Governors' Award of Excellence for outstanding academic performance. She regularly educates the general public, pharmacists and other health care professionals on topics related to natural medicine and has contributed to Canadian publications such as Glow Magazine, Canadian Living and Chatelaine. Dr. Hand maintains a general naturopathic practice in Toronto with a focus on gastrointestinal, female, reproductive and endocrine health, as well as sports medicine. Dr. Hand is a member of the Ontario Association of Naturopathic Doctors and the Canadian Association of Naturopathic Doctors.
---
How to Reduce Fear and Become a Confident Parent

Kristi Clements is the mother of three beautiful children, and a professional Registered Massage Therapy (RMT) Doula for over one decade. She has a deep and intimate appreciation of the wonderful world of pregnancy, childbirth and parenthood. In her capacity as a Registered Massage Therapist, a seasoned Doula, and the Founder of Helping Hands Doula, Kristi and her team are pleased to offer a unique combination of services to her clients across the Greater Toronto Area.
Over the past thirteen years, this Doula has supported over 300 births that have ranged from hospitals to homes, c-sections to VBAC's, and twins. These experiences have helped to shape Kristi into a more compassionate and confident Doula. She is incredibly passionate about her work and her impact.
Do you want to REDUCE FEAR and BECOME A CONFIDENT PARENT? Come find out how on Friday, Saturday and Sunday on the Seminar Stage.
For more information on Kristi's services, her blogs, and resources, visit www.HelpingHandsDoula.com
---
Child Passenger Safety:
RED Light – GREEN Light
This presentation will be an interactive session educating caregivers about car seat basics including installation of car seat in the vehicle and properly securing the child in the car seat.
Barbara Baines
Barbara Baines, long-time investigator and child restraint expert for Transport Canada, is partnering with the company as a child passenger safety advocate in Canada.
"She is a leading expert in child safety restraints in Canada. Her knowledge will help us continue to educate parents on the importance of car seat safety."
During her 27-year career with Transport Canada, Baines led investigations into vehicle crashes across Canada, inspecting and evaluating children's restraint systems, air bags and seat belt assemblies to identify and determine safety defects. She oversaw Transport Canada's testing of seat belt assemblies, children's restraint systems and children's booster seats. Baines has conducted training courses for car seat technicians and car seat instructors across Canada, training nearly 3,000 individuals in child safety.
---
Infant Feeding
Cindy Zizek is not only a mom, but she is also a Registered Nurse and spokesperson for playtexmommyville.ca. Since 2007 Cindy has provided teaching to new parents about infant nutrition, early parenting, child development and identified the appropriate community supports and services for new families. With years of experience, Cindy can give insight to breastfeeding and neonatal care.
---
Safe Sleep For Your Infant - Yolanda Guitar
Yolanda delivers workshops and presentations addressing SIDS and Safe Sleep for infants. She targets a wide variety of audiences such as; new and expectant mothers, childcare providers, educators such as public health and hospital staff. She has provided training to all Catholic Children's Aid Society staff and foster parents throughout the Toronto district. She has made many television appearances including appearing with the Chief Coroner of Ontario to educate viewers and listeners all about safe sleep.
Yolanda was on the advisory panel with the Registered Nurses Association of Ontario to create Best Practice Guidelines for safe sleep in maternity wards. She will be sharing the highlights of the guidelines in her seminar.
Yolanda was a panel member for a webinar with the Ontario Children's Aid Society. The webinar will be used across Ontario for training of staff on the importance of safe sleep.
Yolanda speaks at various Ontario Early Years' programs and other community events, while volunteering her time to attend trade shows and informational seminars.
Yolanda presented at the Annual Education Program for Coroners and Pathologists at a session dedicated to investigation of Paediatric deaths, giving a parents perspective.
Yolanda has been a volunteer with the Canadian Foundation for the Study of Infant Deaths for 9 years, her contribution in education on the lifesaving message of safe sleep for infants has been extraordinary and invaluable to the lives that she has touched.
Yolanda is working on a nationwide project to replace loose blankets in hospitals with wearable blankets, and to encourage a new way of modelling safe sleep in all hospitals.
Yolanda has gained the admiration and respect of healthcare professionals across the province and is recognized as an expert in the field of infant safe sleep.