Bob The Builder hits new heights!
Performing daily at the Dyson Toddler Time Stage!

Bob the Builder ™ has had a makeover! His foundations are all still in place, he's still the warm, best builder buddy any pre-school kid would want on their team but now he's a Bob for our times - stronger, funnier, more dynamic, more agile and way more inspirational and we're so excited to have him at the BabyTime Show!

Bob is good hearted, charming, friendly, and always positive and patient. Bob is a modern builder using the most up to date equipment, including a tablet that can store his designs.

Children can join the Can-Do Crew when Bob the Builder™ performs his interactive Sing-Along Performance. The hard-hat wearing, hard-working builder will be singing, dancing and looking for aspiring builders . The interactive Sing-Along Performance features songs that get kids up and dancing while modeling important qualities for new members of the Can-Do Crew, including teamwork, a positive attitude and problem-solving skills. No job is too big or too small for this builder. Can he fix it? Yes he can!
Daily Toddler Time Stage Schedule
| Performer | Time |
| --- | --- |
| D Jay the Entertainer | 10:45am |
| Barney | 11:00am |
| D Jay the Entertainer | 11:45am |
| Bob The Builder Live Show | 12:00pm |
| D Jay the Entertainer | 3:15pm |
| Bob The Builder Live Show | 3:30pm |
Barney will also be appearing Daily!
Come & sing along!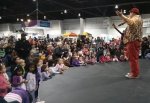 D Jay the Entertainer will be appearing daily!
D Jay the Entertainer brings music and comedy to the BabyTime Toddler Time stage. Sing along to today's most popular children songs and get your groove on and your sillies out! D Jay the Entertainer puts on a show for all ages to enjoy so be sure to stop by the Toddler Time stage to catch his performance.